This year's Center for Surface Combat System's (CSCS) exhibit at the Surface Navy Association's 32nd National Symposium in Crystal City showcased CTI's Mk 45 MOD 4 virtual trainer. The three day, Department of the Navy-sanctioned event, is a high-profile forum where naval leaders and stakeholders gather to explore a wide range of issues for the surface community.
The CSCS booth spotlighted current development efforts in virtual environment training aids. The Navy has mandated virtual environment training solutions across a broad spectrum of naval training and education. CTI's 5″ gun trainer shared space with a project from first-tier defense contractor Lockheed Martin, .
CTI's trainer grew from a Small Business Innovation Research contract awarded in 2014 by the Office of Naval Research, with Program Officer Dr. Ray Perez and Project Manager Ms. Lore-Anne Ponirakis. Throughout the project, CTI worked closely with Mr. Michael Kroner, CSCS Technical Support Deputy Director along with faculty and subject matter experts at CSCS Detachment West: the San Diego Gun School.
The result is a highly engaging, character-centric, immersive virtual training environment covering a significant part of the thirteen-week Gunner's Mate course. It is especially focused on the course's final practical exam. The CTI trainer is currently under consideration for the Navy's Surface Training Advanced Virtual Environment – Combat Systems (STAVE-CS) program.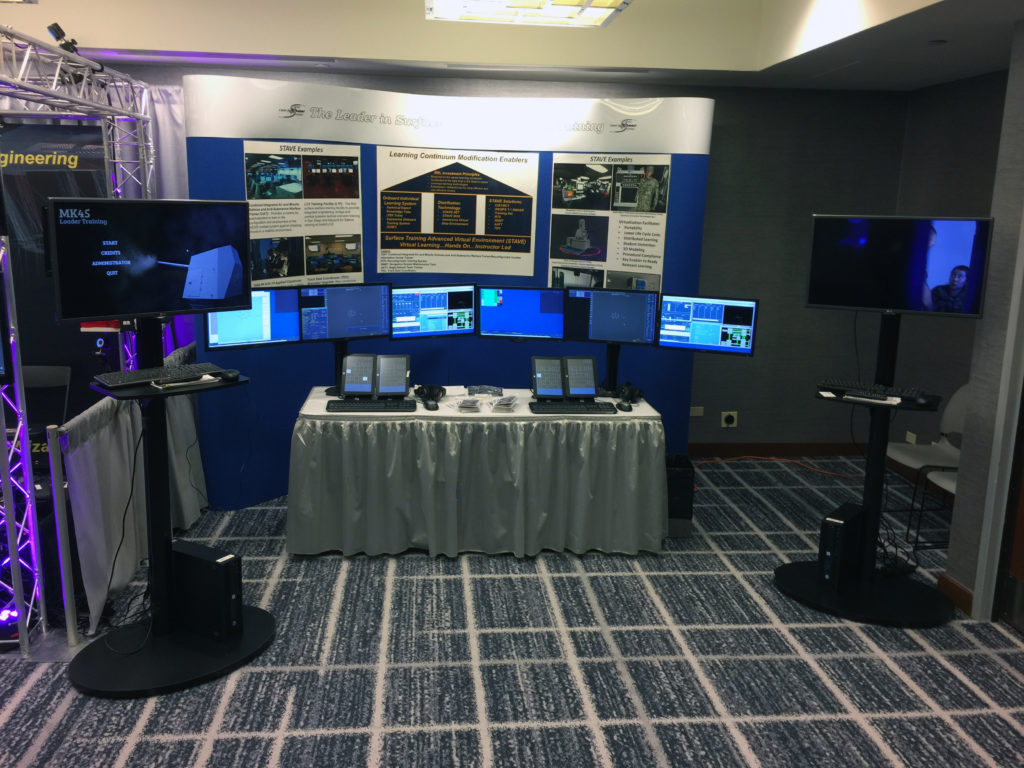 The Center for Surface Combat Systems booth at the 32nd Surface Navy Association National Symposium. Photo credit: Kert VanderMeulen